Specification
There are many debates about what specifications make the best guitar, there is no "best" and the diversity of options this gives players is what makes our job unique. A luthier can only offer what they know through experience and build their philosophy from there. This page will help explain our thoughts and answer questions to those debates.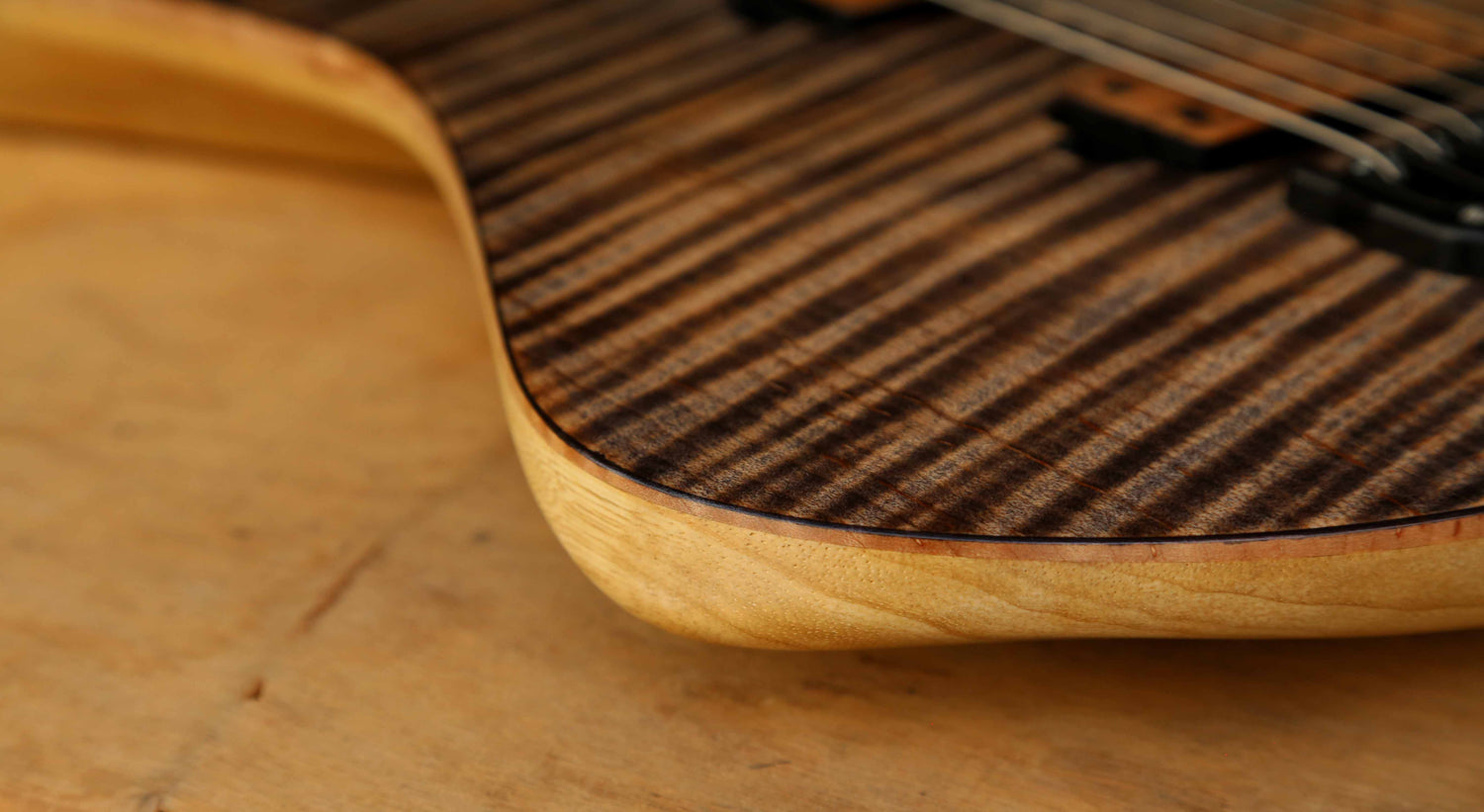 Lets Talk Tonewood
We purchase all our tonewoods from trusted sources to know they meet our standards. All woods have a different voice and feel so which is best for you?
Mahogany

Our favorite, Mahogany has a beautiful rust-red color and open grain pores. It is a warmer sounding tonewood.

Limba

Limba also known as Korina comes in either clean white or with black striations. Slightly brighter than mahogany with a clear open tone.

Alder

Alder has no distinct grain, visually nothing special but has a full-bodied tone and makes a great tonewood for solid colors.

Ash

Known for its beautiful open grain pores and yellow-white color. Ash has a clear bright tone.

Sassafrass

Sassafrass is growing in popularity due to difficulties sourcing quality Ash. Very similar in tone to Ash it makes a good eco-friendly substitute.

Basswood

Plain grained mid-toned wood, a well balanced sound and light weight. This is a perfect tonewood for a solid finish.

Maple

Maple is the world's most popular tonewood for making necks. It is our base neck option with a bright clear tone you really cant go wrong.

Roasted Maple

Roasted maple is maple that has been treated in a vacuum oven to draw moisture and impurities out. It has a wonderful caramel color and greater stability.

Figured Maple

Maple comes in many forms Flamed, Quilted and Birdseye. All share the same tone bright and snappy. They are prized for their unique 3d grain patterns. These woods make amazing tops and necks.

Spalted/Burled Maple

Burly maple known as Buckeye burl is a visually busy tonewood only suited for tops, it has wild inclusions while Spalted maple is the product of a decaying tree maple with black striations from fungal infections.

Figured Redwood

Redwood is a soft species known for its lightweight and beautiful reddish-orange coloration. Most suited for tops this is a midtoned wood with some snap.

Figured Walnut

Our favorite top option, Figured walnut comes in a variety of patterns and colors. Featuring beautiful reddish brown hues and a clear but not too sharp tone. It has a similar sound to maple but not as bright.

Wenge

Wenge is a chocolate brown wood with open grain. A more mid-toned wood that has some extra snap. Wenge has plenty of sustain but heavier weight.

Rosewood

The most popular fretboard wood rosewood has a warm tone and beautiful brown to dark brown color. If you are looking for balance we recommend Rosewood.

Pau Ferro

Often used as a substitute for Rosewood Pau Ferro has a similar grain but lighter color. We find Pau Ferro tones to be very different from piece to piece but often brighter than Rosewood.

Ebony

Ebony has a beautiful dark tight grain sometimes sporting greyish mineral streaks. Its density lends to a bright-sounding tone with plenty of clarity and snap.

Macassar Ebony

Tonally similar to standard Ebony, Macassar is very dense and has beautiful reddish brown streaks. We feel this is the most beautiful fretboard wood.

Ziricote

One of the most unique looking woods with spider web figure pattern and a wide range of colors. It is a dense tonewood with a brighter medium tone.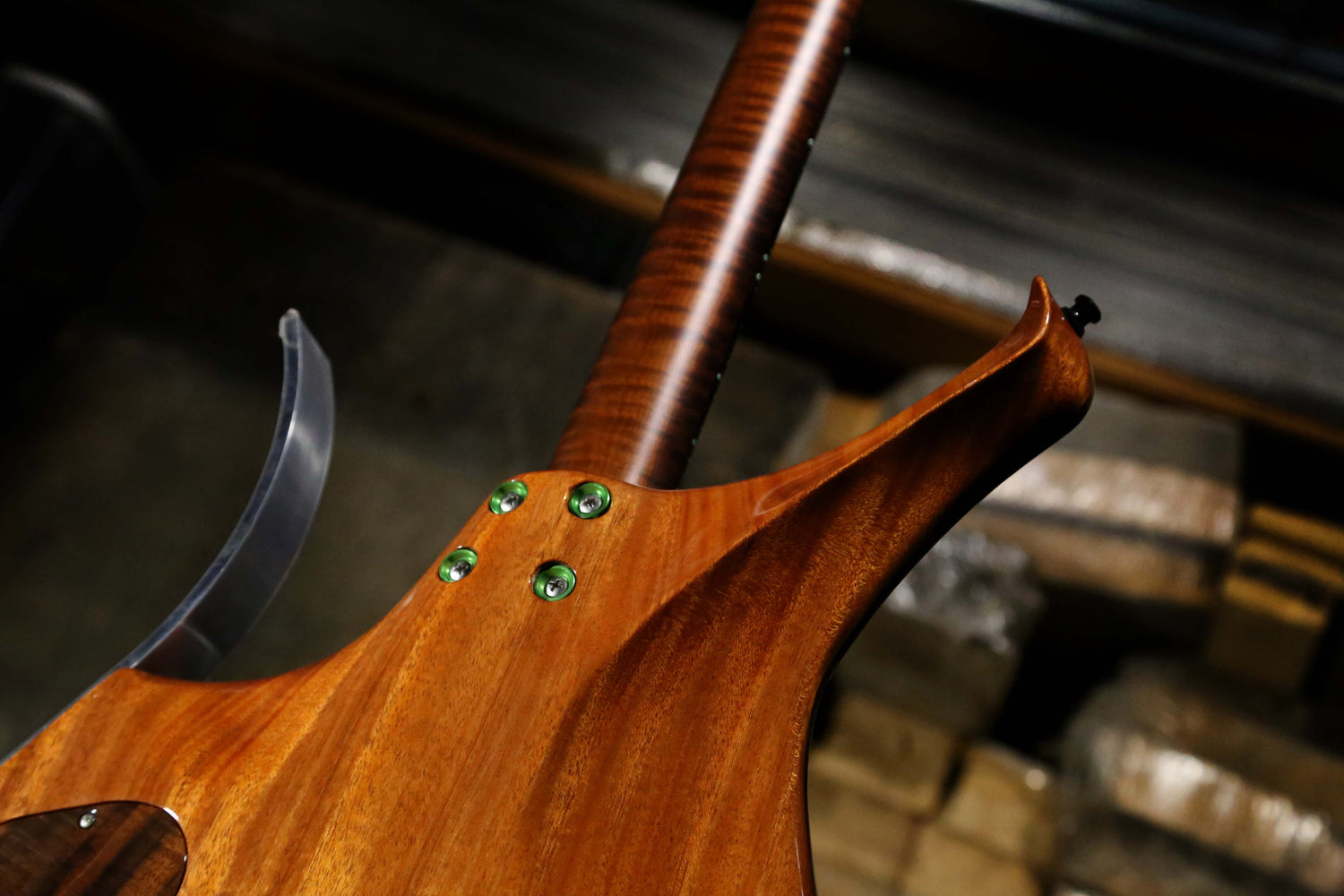 Our Philosophy
We offer many standard features and we have our reasons.
Sticking our Necks out.
Neck profile

We offer three neck profiles carved in a modern C shape that fits the hand like a glove. Slim, Medium, and Fat.

Radius

We feel a 12-16" compound radius is the best of all worlds. Enough radius for comfy chords on the low end and flat for searing leads on the high end.

Angle

Our headstocks come with a 5.5-degree angle standard to give some break over the nut but the strength of a flat headstock. Part of our inspiration taken from legendary luthier Ken Parker.

Stainless Standard

All of our guitars come standard with stainless steel frets unless otherwise asked. This allows for extended life and we feel smoother bends.

Spoke Wheel Trussrod

Our necks come equipped with a spoke wheel rear adjusting truss rod. Making for easier access and adjustments on the fly.

No inlays! well... almost

We only offer dot inlays, do not ask for anything else.
A Whole Body Of Work
Carve type

All of our models are offered in Flat, Semi-Carve and Full Carve versions. These carves are one of our signatures each one intentionally done to compliment the design and improve ergonomics.

Chambers

Our Flat and Semi-Carve models can be chambered, this helps reduce weight and give a more airy hollowbody tone.

Lower Horn

The lower horn of our guitars are made of lightweight aircraft-grade aluminum and mounted with 3-inch screws. It is what allows for our ergonomic cutaway and weight reduction.
Hardware and Electronics
Pickups

Pickups are a very personal part of the guitar, we ask our clients to take their time choosing. We have a list of trusted pickup makers we feel represent the best quality and tone. They are mounted to the body with threaded inserts for easy adjustment.

McNelly, BareKnuckle, Elysian, Guitarmory, and Seymour Duncan.

Bridges

There are a few bridges that meet our standards, Hipshot Fixed, Schaller Hannes, and Gotoh 510 tremolo. If you want a different bridge and ask nicely we might be able to accommodate. Do NOT ask for a Khaler, Evertune, or Floyd rose.

Tuners

We use the hipshot open-gear locking tuners. The short posts on these tuners fit the angle of our headstock best and provide the best tuning stability.
Finishing
Smooth Satin Necks

A neck needs a thin finish to allow for maximum resonance. Our necks come with a thin satin finish your choice of oil or poly. The neck is important so why coat it in thick plastic?

Dream Color, Dream Guitar

We like to offer our bodies in as many finish options as possible. What is a dream guitar without a dream finish? The world is full of color and this is one area we love to collaborate with our clients on.

Anodizing

A few of our parts are anodized in a variety of colors from the lower horn to the neck mounting ferrules.
Those Extra Details
Custom Pickups

Some of our recommended pickup makers offer some awesome features. We can custom wrap pickups in a matching color or match the bobbins to the top of your guitar. If you have an idea ask us if it's possible.

To Veneer or Trim?

We offer some extra headstock features such as matching to body color, custom veneer matching to fretboard, and our headstock trim.

Back Control Plate

Why not match that backplate to your top or your neck? We can cut it out of carbon fiber.